Adding and Removing Members
Adding and removing users is a simple process that can be achieved from the B6 central management console by all those with admin privileges. All users that are added will have the ability to log in to their own B6 portal and use all available modules to transfer data to and from the primary server as well as other private cloud devices.
Adding a User
Log in to the web interface and select the USERS module in the left pane
Click the ADD  button in the top left corner. An Add User box should appear.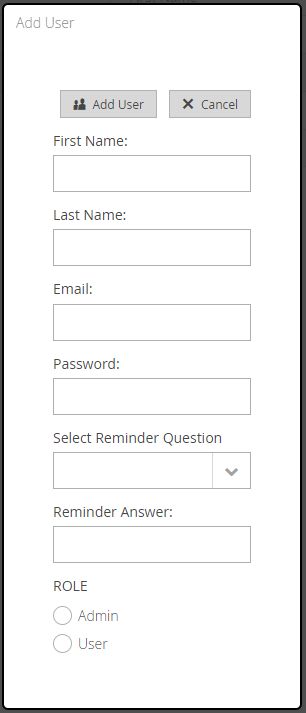 In the Add User box, fill out all the information related to the new user
Regarding ROLE, there are two options:

Admin: Full management abilities that should only be given to the primary account holders and system administrators.
User: An access level that grants the ability to all available file transfer modules as well as a user-level INBOX and REPORTS module.

Click "Add User" to complete the process
Note: An email will not be sent to newly added users. The Admin adding the new users should communicate the login ID and password via a secure means to each user. 
Removing a User
Log in to the web interface and select the USERS module in the left pane
Click the REMOVE  button in the top left corner
A prompt will popup asking you to confirm your choice. Select Yes if you are sure you want to remove the user. Once confirmed, that user will no longer have access to the B6 web interface